Just in the nick of time, I am pleased to announce the latest item to be given away by random drawing: the Sommerfeld Tools large Lock Miter router bit, Item # 01006 – From page 52 of the Sommerfeld Catalog: "…These bits join materials at 90º by cutting a 45º miter and a matching tongue & groove at the same time…Used in boxes, hollow-beams, columns, and cabinet corners…":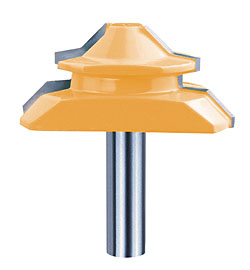 A quick way to make drawers:
I will draw a name at random on September 1, and will post the name of the winner shortly after that. If you have already registered, you do not have to register again. If you have never registered for the monthly drawings, send me your name and full address to sandal_woods@bbwi.net.
Thanks, and good luck to all!
.
.